Bring Us Your Talent

---
CHOOSE A CAREER THAT WORKS FOR YOU
The automotive industry is on the cusp of an exciting new era. Today, GM-certified technicians are part of an innovative movement that is looking toward the future by understanding and diagnosing advanced technology in infotainment systems and electric vehicles. Attending a General Motors Automotive Service Educational Program (ASEP) school is a great way to enter the field and with opportunities for continued training, becoming a GM World Class Technician is within your reach.
GET STARTED AND GET GROWING BY:
LEARNING AND LEADING WITH GM DEALERS
Making decisions for your future can be an intimidating task. There are so many pathways to choose from—and you're likely being encouraged to explore many different directions by others in your life. A career as an automotive technician is a great opportunity to put your natural aptitude for STEM and problem-solving to the test. This field is constantly evolving with advancements in engineering and technology that make GM vehicles cutting edge. Automotive technicians are also in high demand nationwide, so choosing this career path can open up a lot of doors to you in terms of future opportunity.
Whatever educational and career pathway you choose, you deserve the opportunity to receive a comprehensive education in your field and find a career that provides competitive pay and benefits, without the pressure of overburdening student loans. Attending a GM ASEP school can provide this opportunity. GM ASEP delivers advanced and customized automotive service training focused on technical training, problem-solving, digital prowess, and critical thinking. At a GM ASEP school, you can earn an associate degree and gain valuable hands-on experience at a sponsoring dealer, helping to streamline your career path.
A career as an automotive technician has a lot to offer compared with some of the more traditional paths available to you. Read on to learn more about the benefits that this field could provide for you.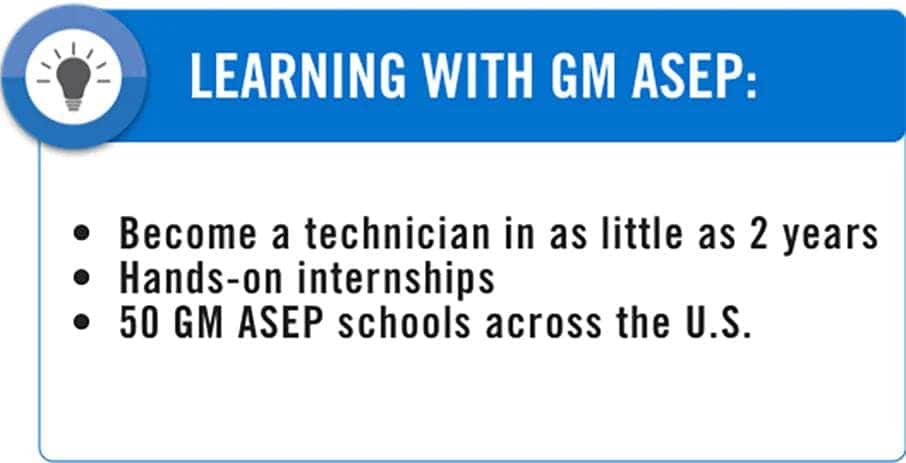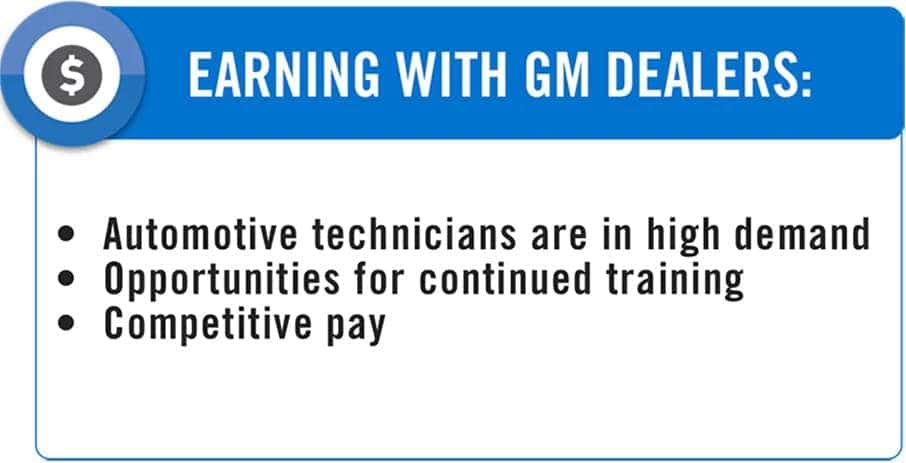 CHOOSE A CAREER THAT MOVES
If you're just starting out or in need of a career change, becoming an automotive technician is a great choice for those who are driven to succeed. This industry provides plenty of opportunities to improve your skills and move up in your career—as well as increase your salary. There are also tons of ways to enter this field—while GM ASEP provides a great program, you can become a part of this industry and achieve success with experience from any trade school or high school program, from the GM Shifting Gears military program, or, if you're motivated, even with no experience at all.
For More Details on A GM Technician's Career Path
To Apply To Auffenberg Carbondale